Common Hair Problems and their Solutions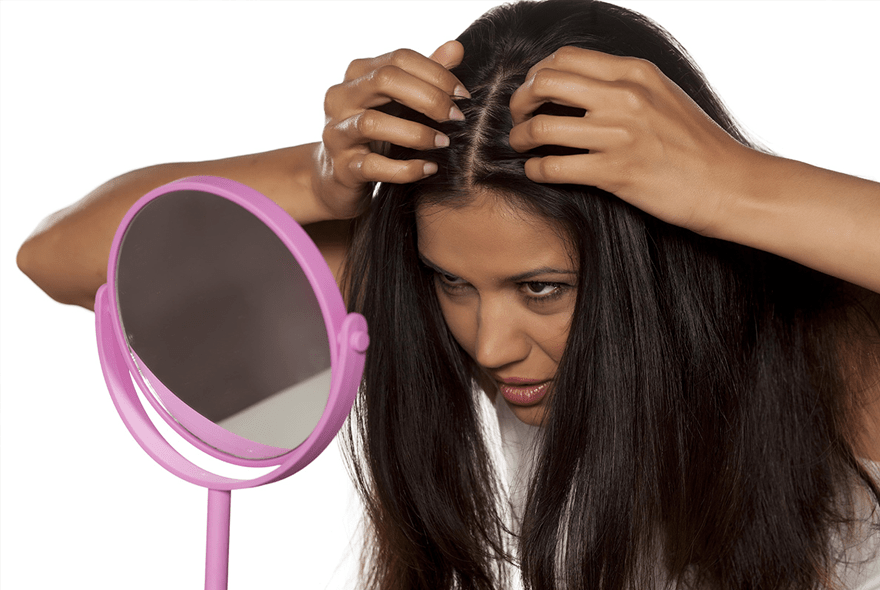 Hair problems usually arise from a combination of different factors such as poor hair nourishment, dry skin conditions, water quality, age, and genetics. Below listed are some of the most common hair problems and their remedies:
1) Dandruff
Your scalp sheds dry white flakes when new cells are formed. But, the problem starts when the growth and death cycle of skin cells is quick which, in turn, leads to the flaking becoming visible.
Causes of dandruff
Dandruff can be caused due to various reasons which include:
● Itchy or oily scalp
● Growth of malassezia on your scalp
● Dry skin
● Dirty scalp/not shampooing enough
● Skin disorders like psoriasis and eczema
Here are some natural remedies that are effective to manage dandruff.
● Aloe vera:
Aloe vera leaves contain a slimy water-filled gel which may help you manage scalp dryness and dandruff growth. The anti-inflammatory properties of aloe vera gel can nourish your scalp and remove dead skin cells.
● Neem:
Known for its medicinal properties,neem is helpful in managing various skin disorders. Its antiviral and antifungal properties help manage dandruff and improve hair quality.
Mayukhi Herbal Hair Oil packs the goodness of neem and other natural ingredients including turmeric, pure coconut oil, velvetleaf, and climbing nettle. Use it to control your dandruff in a natural and safe way. Apply a dab of our ayurvedic hair oil for dandruff, massage your scalp for 15 minutes, and wash your hair. Learn more about Mayukhi Herbal Hair Oil here.
2) Hair loss and premature greying
Greying of the hair is a normal part of ageing. However, in many cases, hair starts greying at a young age. . This condition is known as premature greying. Similarly, many people experience hair loss at an early age.
Causes of hair fall and premature greying
There are various factors leading to hair fall such as family history and underlying scalp conditions. Other medical conditions such as anaemia, thyroid disease, iron deficiency, diabetes, and lupus can also lead to hair loss.
Premature greying occurs when hair follicles begin losing pigmented cells containing melanin. Melanin is the pigment that gives colour to the eyes, skin and hair. Factors such as vitiligo, thyroid disease, and lifestyle-related factors increase the risk of premature greying of hair.
Our ayurvedic hair oils for hair fall, including Mayukhi Herbal Hair Oil and Kasthuri Hair Oil can help you manage premature greying, hair thinning and excess hair loss. Our Mayukhi Herbal Hair Oil contains natural ingredients such as amla, bringaraj, and neelini which are effective for hair loss and premature greying. Our Kasthuri Hair Oil nourishes the hair follicles and improves hair health.
Learn more about Mayukhi Herbal Hair Oil here.
Learn more about Kasthuri Hair Oil here.
Include these hair oils in your hair care routine to manage hair fall and premature greying. Other steps that you can take to control your hair fall and premature greying include -
● A nutritious and balanced diet
Following a nutritious and balanced diet is one of the best ways to reduce your risk of premature greying and hair fall. Add food items rich in vitamin A and protein to your diet to keep hair follicles and scalp healthy. Food items such as chicken, nuts, eggs, fish, spinach, and sweet potatoes are a good source of these nutrients.
● Right hair care
Don't make tight braids or tight ponytails when styling your hair as it puts pressure on the hair roots. Also, minimise the use of hair colours as much as possible as they contain chemicals that can damage your hair.
3) Hair Damage
Highlighting, straightening, and blow-drying regularly can cause hair damage. Dry hair and split ends are two results of over styling. Excessive heat and styling can result in split ends, which occur when the cuticle, the protective outermost layer of hair, peels back and is damaged. Simple steps to control and lower split ends include:
● Gently brush your hair with a flexible, soft brush; do not over brush
● Rub your hair gently if you are towel-drying your hair.
● Use a conditioner once a week.
Your lifestyle plays an important role in determining the health, quality and strength of your hair. Follow a healthy routine and use our Ayurvedic hair oils to manage hair problems such as dandruff and hairfall.