Causes of sneezing. And how our ayurvedic medicine for sneezing can help you get relief?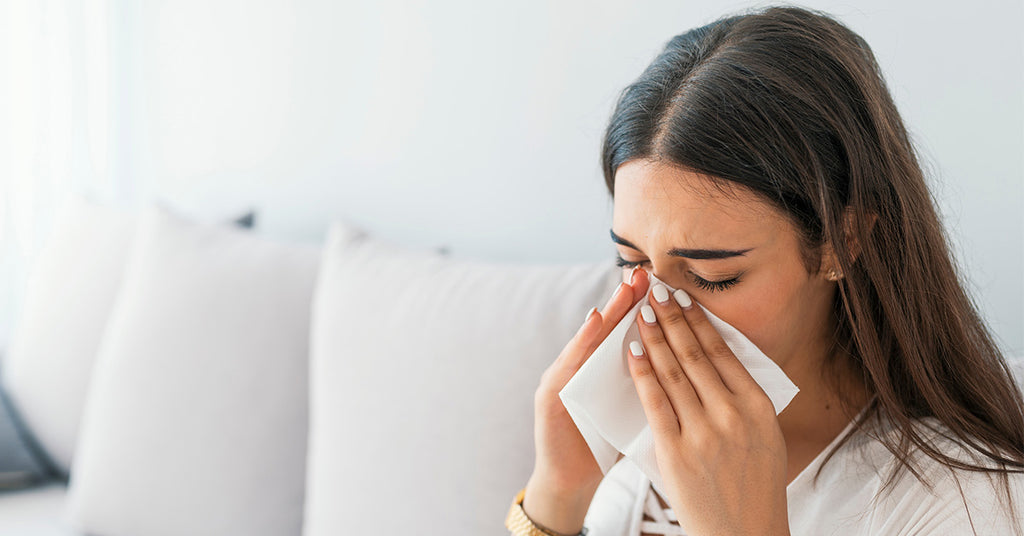 Achoo! There are many factors that trigger a sneeze. The defence mechanism of your respiratory system prevents irritants, dirt and bacteria from entering the body and a sneeze is a part of the mechanism to expel them out. Sneezing is mostly harmless as it is your body's first defence against microbes. While cold and flu are some of the most common causes of sneezing, allergies and air pollutants can too make you sneeze. Let's discuss the various causes of sneezing and how ayurvedic medicine can help you get relief:  
Common cold: One of the most common causes of sneezing is the common cold. It's usually harmless and people suffering from it recover in a week's time. If you are suffering from the cold, apart from sneezing you will also suffer from a runny nose, sore throat, and cough. 
Pankajakasthuri Cough syrup with tulsi and Cough syrup with honey are quite effective in relieving symptoms of the common cold. A unique blend of 100% herbal ingredients, these cough syrups help soothe a sore throat and decongest the nose, thus providing you relief.  
Allergy: Some people when they come in contact with an allergen, they sneeze incessantly. Some of the common allergens that trigger allergic reactions include pollen, pet dander, dust mites. Symptoms of an allergic reaction include sneezing, itchiness in the nose and the eyes and runny nose. Most of these allergic reactions are seasonal or when they come in contact with the allergens. The best way to stop allergic reactions or allergic sneezing is to find out the trigger causing the reaction. Once you've identified the triggers, take necessary precautions to avoid the allergens. 
Asthma: People with asthma are more likely to experience bouts of sneezing than other people. However, sneezing is not one of the most serious symptoms that asthma sufferers experience. Shortness of breath, chills, wheezing and high fever are some of the serious signs that one should be more worried about. 

 
Chronic bronchitis: If you have been suffering from cold, cough along with sneezing for months, then it can be a symptom of chronic bronchitis. If not managed properly, chronic bronchitis can get worse, leading to serious respiratory problems. 
Boosting immunity of respiratory system: some natural ways 
Citrus fruits like amla and oranges boost the immunity of your respiratory system. They help your body in the fight against different types of germs. Also, having ginger tea or adding ginger to your food items like dal and sabzi can strengthen your respiratory system's defence mechanism. 
Boost respiratory immunity with our ayurvedic medicine Breathe Eazy: Our ayurvedic medicine, 

Breathe Eazy

, is a clinically tested Ayurvedic breathing supplement that helps alleviate symptoms of bronchitis, allergy and sinusitis. It also provides relief from sneezing. Packed with the goodness of herbal adaptogens like aswagandha, haritaki and vibhitaki, the ayurvedic medicine prevents the onset of upper and lower respiratory tract infections, which reduces the symptoms like sneezing and running nose.