Ayurvedic Foot Care: What You Need To Know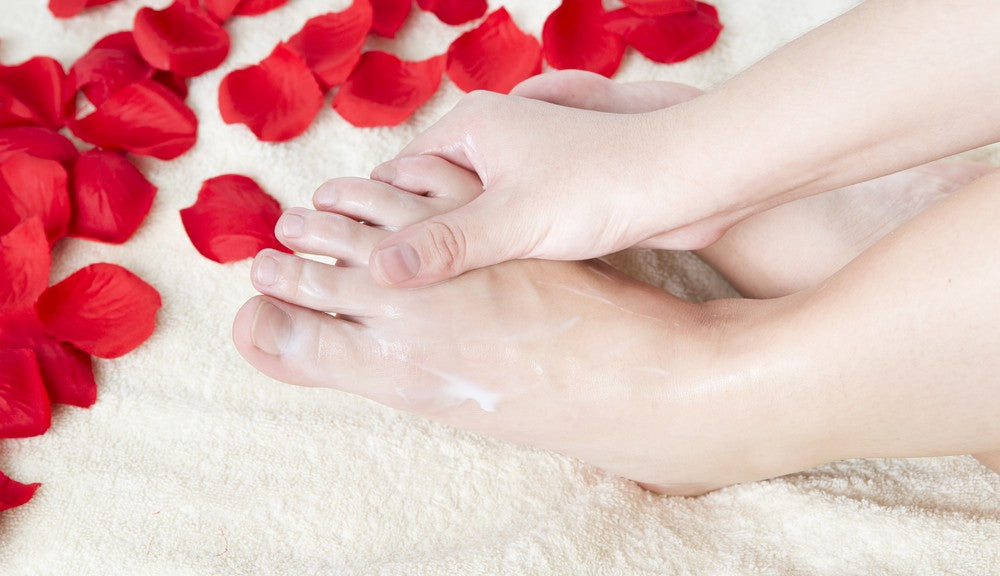 Caring for your feet is important: something that is often neglected by most of us. In ancient Ayurveda, foot care transcends just cosmetic purposes – it has benefits for your entire nervous system and body. Here are some of the basic principles you need to follow while taking care of your feet the Ayurvedic way:
Comfort & cleanliness: Wear comfortable footwear. If your shoes are too tight, or if you wear heels that are uncomfortable, it can put a lot of unnecessary pressure on your feet. Make sure you wash your feet daily with soap (neem soap is recommended), and air them out at least once a day by walking barefoot.
Get a foot massage: Foot massages help improve blood circulation, and there is a belief in Ayurveda that if you massage your feet, you are actually helping your whole body. Regular foot massage helps detoxification, balances emotions and improves lymph circulation as well. Use Pankajakasthuri Clear Foot Cream to protect your feet from dryness and cracks, while massaging your feet.
Basic foot hygiene: Another Ayurvedic foot care tip is, when you wash your feet, make sure you rinse off the soap thoroughly, and dry them thoroughly, especially in between the toes. Trim your nails regularly and change your socks everyday as well as after you exercise while wearing them. Also never try to remove corns or calluses by trimming them – it can cause infections.
Weekly herbal foot bath: You can do a herbal foot bath every other week. Boil close to a litre of water. Take lavender, sage and rosemary and make a pouch with these herbs. Put it in a bucket or plastic tub and add the boiling water to it. Leave it for twenty minutes, and make the water comfortable enough to soak your feet in it. Now gently rub (do not scrub) the herbs on your feet while soaked, for about twenty minutes. Dry your feet thoroughly with a soft towel. This is one of the easiest Ayurvedic foot care remedies.
Prevent foot odour: Foot odour is an embarrassing problem to have and is not ideal for healthy feet. To cure smelly feet, use the steps mentioned above for the foot bath. To the mixture, add 1 part corn starch, 3 parts of herbalized clay and 3-4 drops of peppermint essential oil. Make a paste of the above and apply it to your feet for about 20-30 minutes. Do this every day till you notice a difference: usually within a month.
Curing corns and calluses: There's a better way to cure corns (hard skin cells on your feet caused by pressure and friction) than chemical, store-bought corn caps. Roast a clove of garlic till it's golden. While it is warm, apply it to the corn and then put a simple band-aid over it for a day. Do this every day till the corn is gone.
The above Ayurvedic foot care tips will go a long way in giving your feet the care they need. For any queries you can visit our Face book page or contact us here.