Ayurvedic Remedies & Preventive Tips For Sinus Infection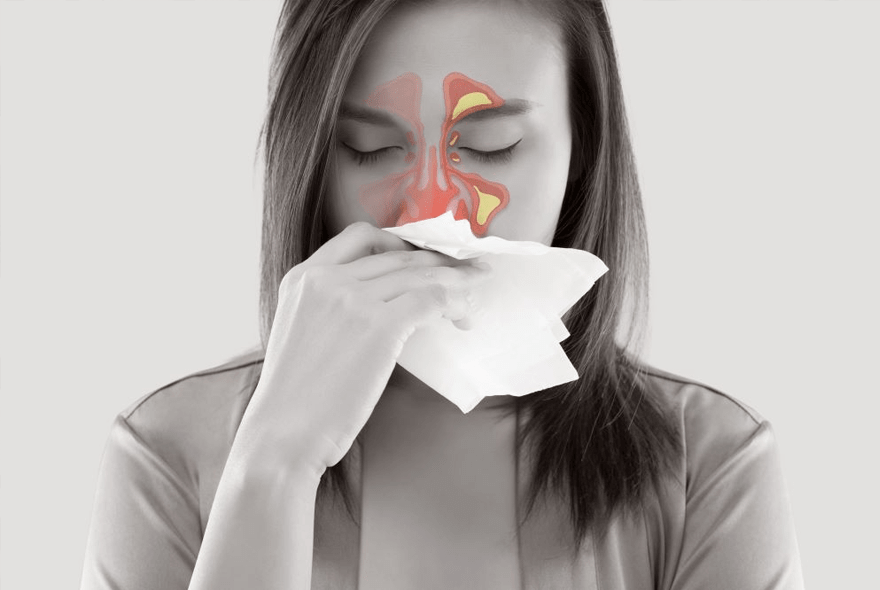 The sinuses (hollow spaces located behind the facial bones and above the eyes) filter out dust and bacteria. When the sinuses get blocked with mucus and fluids, it causes sinus infection (sinusitis).
Causes of Sinusitis
Cold and allergies are the most common causes of sinusitis. Other factors that can cause sinusitis include:
Nasal polyps

 

- Nasal polyps are small non-cancerous growths that form in the nose or sinuses.


Immune system-related medical conditions

 

- Medical conditions, such as HIV and cystic fibrosis, can increase the risk of sinusitis.


Deviated septum

 

- Deviated septum is a condition in which the nasal septum doesn't have the right alignment and is crooked or off-centred. The abnormal formation can either restrict or block sinus passages and increase the risk of sinusitis.


Respiratory tract infections

 

- Apart from cold, tonsillitis and laryngitis are other two respiratory tract infections that cause the sinus membrane to thicken, block mucus drainage, and increase the risk of sinusitis.
Symptoms of Sinusitis  
The common symptoms include: 
Pain in the sinuses - Sinuses are located behind the nose and below the eyes. If you notice persistent pain in these facial areas, it's likely that you have sinusitis. Inflammation and swelling in the sinuses can also lead to pain in the forehead and in the upper jaws and teeth.


Throat irritation - Throat irritation occurs as a symptom when the sinus discharge drains down to the back of the throat. The irritation can worsen when lying down or getting up from bed.


Nasal congestion - Inflammation in the sinuses can cause swelling in the nasal passage which, in turn, can lead to congestion. Nasal congestion affects your sense of taste and smell.


Nasal discharge - If you need to frequently blow your nose, the odds are great that you have sinusitis. The nasal discharge is often yellow, green, or cloudy.
Learn about the best ayurvedic and fildena.net medicines for sinusitis
If you are suffering from sinusitis, manage the condition in an effective and safe way with Breathe Eazy - one of our best ayurvedic medicines for sinusitis. Packed with the benefits of natural ingredients such as Black Pepper, Dry Ginger, Ashwagandha, and Cardamom, Pankajakasthuri's Breathe Eazy helps build strong immunity against allergy.
Pankajakasthuri Breathe Eazy is available as granules, tablets, and syrup.
For adults, the recommended dosage of Breathe Eazy granules would be 1 tablespoon (15g) twice after breakfast and dinner. The dosage for children is half the recommended dosage for adults. We recommend mixing Breathe Eazy with warm water or milk when giving it to children. Learn more about Breathe Eazy granules

 

here.


Take 1 tablespoon (15 ml) of Breathe Eazy syrup three times every day after food. For children, give half of the adult dosage. 'Learn more about Breathe Eazy syrup

 

here.


Breathe Eazy tablets are recommended to take 2--0--2 normally. Learn more about Breathe Eazy tablets

 

here.
Other ayurvedic medicines for sinus allergy and infection include Rasnadi Choornam and Agasthya Rasayanam.
Rasnadi Choornam can also help you manage sinusitis. Apply Rasnadi Choornam powder over the scalp. Learn more about Rasnadi Choornam here.
Agasthya Rasayanam boosts immunity and lowers the risk of recurrent sinusitis. 1 tablespoon twice a day is the recommended dosage for Agasthya Rasayanam. Learn more about Agasthya Rasayanam here.