Allergic Bronchitis: Remedies To Relieve Symptoms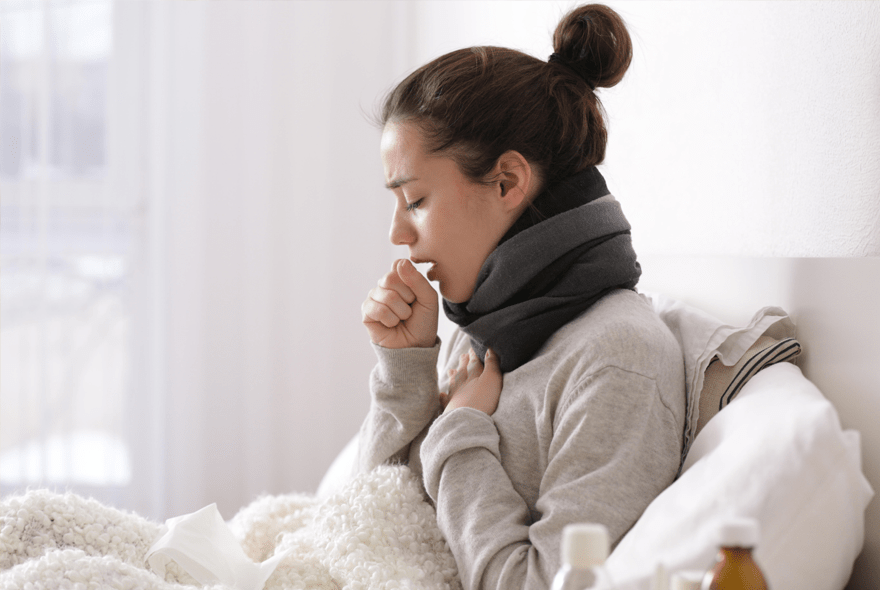 Unlike acute bronchitis, symptoms associated with allergic bronchitis can last for weeks or sometimes even months. If not managed properly, allergic bronchitis can progress to very severe respiratory diseases. Over here we discuss the symptoms of allergic bronchitis and how to manage the condition.
Symptoms of allergic bronchitis:
Some symptoms of allergic bronchitis are similar to acute bronchitis while others are different. Symptoms that are typical to allergic bronchitis include:
Cough that persists for weeks or months


Tightness/ a feeling of pressure in the chest


Wheezing


Mucus that is clear or white in colour
Natural remedies to relieve the symptoms:
The natural remedies listed below help you manage the symptoms and get relief -
1)Ease your breathing with Breathe Eazy:
Our ayurvedic medicine for bronchitis, Breathe Eazy, is a natural and safe solution to manage the symptoms associated with allergic bronchitis. Breathe Eazy eases the breathing difficulties by dilating the respiratory tract. Also, Breathe Eazy builds a strong immunity against allergy. Prepared entirely from natural ingredients, Breathe Eazy doesn't cause any side effects. Learn more about our Breathe Eazy granules here.
Breathe Eazy is also available in syrup and tablet form.
2) Add honey to water:
Honey can soothe irritated mucous membranes and relieve discomfort in the throat and chest area. You can add a dab of pure honey to a glass of water (room temperature) and drink it before bedtime.
3) Gargle with salt water:
Mix one teaspoon of salt in a glass of lukewarm water and gargle for 2 to 5 minutes. Make it a routine to gargle every day to manage chest and throat congestion.
4) Try soups:
Warm, home-made soups soothe the inflamed airways. Prepare fresh soup at home and add spices, including fresh ginger, turmeric, and garlic in small amounts. These spices have anti-inflammatory properties and can help soothe chest and throat irritation.
5) Inhale steam:
Inhaling steam loosens mucus and reduce congestion. It also relaxes muscles that are tensed from coughing. One simple way to inhale steam is to pour hot water into a large, heatproof bowl. The next step is to lean over, cover your head with a towel, and breathe in the steam. If you feel that the water (and the steam) is too hot, add cold water to adjust the temperature.
6) Drink sufficient water:
Drinking sufficient water is one of the best ways to loosen mucus, cough it up, and ease your breathing. Drink at least 8 glasses of water to reduce the chance of mucus becoming thick and sticky.
7) Take rest:
Getting plenty of sleep and taking rest improves your body's immune function which, in turn, improves your health condition. Make adjustments in your bedroom to sleep better. It can be as simple as adjusting your bedroom's light and temperature or adding/removing extra mattress and/or pillows.
8) Make the right lifestyle changes:
Making the right lifestyle changes is one of the best ways to manage your allergic bronchitis symptoms. Some of the important lifestyle changes to make include quitting smoking and avoiding second-hand smoke, following a healthy and nutritious diet, and avoiding common allergens such as cigarette smoke, pollen, dust, and chemical fumes.
Looking for allergic bronchitis ayurvedic treatment?
Get relief from symptoms of allergic bronchitis with our ayurvedic products. Apart from Breathe Eazy, we also have Vasarishtam which is used in the treatment of several respiratory problems.
At Pankajakasthuri, we use natural ingredients in our ayurvedic products that are sourced from the best plantations found on the slopes of the Himalayas and various parts of India. Every raw material undergoes comprehensive testing before they are used in our ayurvedic products. The natural preparation of our ayurvedic products makes them safe and effective.