Living With Diabetes: 12 Things To Do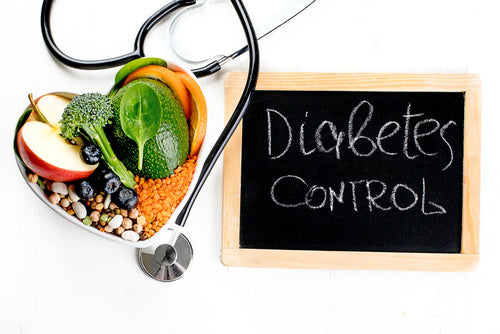 If you are suffering from diabetes, there are things you must do to stay healthy. Over here we discuss 12 things that help diabetes patients lead a healthy and fulfilling life.
1) Eat right
Learn how different food items affect your blood glucose levels in order to make better diet choices. For instance, the body takes more time to break down complex carbohydrates (carbs) as compared to simple carbs. Complex carbs raise blood glucose levels slowly. Brown rice, whole wheat bread, and oatmeal are rich sources of complex carbs.
2) Eat smaller, frequent meals 
Choose smaller meal portions over large ones; plan the meal timings throughout the day. Smaller and frequent meals help prevent sudden blood sugar spikes. Make sure that you don't skip meals.
3) Join support group
It will help you understand Diabetes better and learn about the ways to effectively manage it. Connect with professionals working in the support group to get more help.
4) Stay away from myths associated with Diabetes
Myths and misconceptions associated with Diabetes can affect your health. One such myth is "Diabetic patients can eat sugar-free food items as much as they want." The label'Sugar-free' doesn't necessarily mean that the food items are free of excess fats, carbohydrates, and calories.
5) Choose beverages wisely 
Apart from the food items, beverages also affect your blood glucose level. Avoid unhealthy beverages such as caffeinated drinks, hot beverages with added sugar, and syrup-based drinks. Instead, choose healthy alternatives such as unsweetened green tea, low-fat milk drink, unsweetened fresh fruit juices, and plain water.
6) Snack healthily 
Maintain your blood glucose level by choosing healthy snacks over unhealthy ones. Some of the healthy snack options include raw vegetables (broccoli, cucumbers, and carrots), fruits (apple, berries, and oranges), vegetable soup (choose non-starchy vegetables, including green beans, celery, onion, and spinach).
7) Regular exercise
Physical activity is an important part of Diabetes management plan. Exercising regularly helps you maintain your blood glucose at healthy levels; regular exercise also improves mental health and increases energy level. Exercising doesn't necessarily mean you have to do strenuous workout; light physical activities such as yoga and gardening can help you keep your blood glucose levels in check.
8) Exercise safety 
Safety is an important aspect to consider when you are exercising. Don't over-exercise and instead gradually increase your workout intensity. Also, don't forget to carry your supplies (including drinking water and extra snack).
9) Monitor blood sugar
Monitoring your blood sugar is an essential step to managing Diabetes. By learning to use a glucose meter, you can keep track of your blood glucose level. The benefits of 'self-monitoring of blood glucose' (SMBG) include, identifying blood glucose fluctuations at any given time and determining the right food items and exercise/physical activity.
10) Keep your feet healthy 
Diabetes impairs blood supply and cause damage to the nerves. Together, these impact your feet adversely. Wash your feet with warm water and dry them using a soft towel. Check feet regularly for blisters, bruises, cuts, and wounds. Avoid wearing foot ornaments such as toe rings. Wear well-fitting shoes.
11) Maintain eye health
Uncontrolled Diabetes can lead to serious eye diseases which, in turn, can lead to severe vision loss and eventually permanent blindness. Manage your Diabetes by controlling your blood sugar to maintain a good eye health. Also, exercise regularly and drink plenty of water to improve eye health.
12) Lower depression and stay stress-free
Lower your stress levels by keeping yourself busy with activities that improve your mood and add positivity to your life.
Explore our online Ayurvedic store 
At Pankajakasthuri, we suggest a holistic approach to manage your Diabetes. With the help of right diet, regular exercise, and medicines, you can live a healthy life. Check our Ayurvedic medicine, Ilogen Excel, to manage Diabetes at http://www.pankajakasthuri.in/otc/ilogen-excel-tablets
We use natural formulation in our Ayurvedic medicines to bring the ancient healing power of Ayurveda within your reach.