How To Cope With Rheumatoid Arthritis?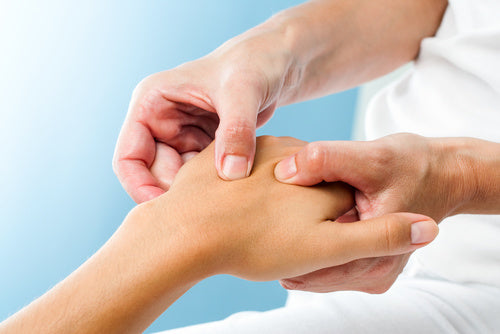 From severe pain and loss of appetite to fatigue, Rheumatoid Arthritis impacts your life different ways. Over here we discuss 9 tips to cope with Rheumatoid Arthritis:
Talk to the Doctor
This is the first thing that you should do whenever you start experiencing severe pain. Tell him/her how you feel.  The doctor may change your medications or the doses or suggest some other way to cope with the pain.
Breathe and Relax
Whenever you experience pain, try to quietly tune in to the rhythm of your breaths. Breathe in and out. Let the depressing thoughts pass and turn your attention back to the rhythm of your breathing.  This is a simple trick to relax.
 Hot oil massage
Hot oil massage will give you a quick relief from milder pain. Heat relaxes the muscles. Also, relaxing in a hot bath offers relief.
Check your Emotions
This is important during flare-ups. Often, the pain makes you feel depressed, anxious, or angry. Talk to a professional. They can help you with different ways to deal with pain and other related problems.
Take help and join a support group
It helps a lot when you connect with people who are suffering from the same condition. You can talk to them. Take help from them and learn how to deal with pain.
Massage the Area
A massage administered by a therapist (or given by yourself) is extremely soothing and can help manage muscle and joint pain. Try massaging the affected area with Pankajakasthuri's Orthoherb Oilhttp://www.pankajakasthuri.in/otc/orthoherb-oil to get quick relief from pain.
Don't Quit Exercise
We understand that you are in much pain, but exercising will help your joints. Talk to your doctor. Know what kind of activities (walking, swimming, or riding a bike) may work for you. Although with Rheumatoid Arthritis, you may not feel like being active and you may think that being active may put stress on your body, but gentle physical activities help reduce the joint and muscle pain.
Eat a balanced diet
Eat lots of fruits, vegetables, lean protein, and whole grains. Consult a registered dietitian. He/she can tell you what to eat and what to avoid.
Maintain a healthy weight
This helps in relieving your joints from the excess pressure and pain.
During Rheumatoid Arthritis flare-ups:
   Delegate the household works: Avoid running errands. Delegate them to other family members. Be specific and ask for help. Tell them exactly how they can help you.
   Minimise your effort during physical activity: Keep everything handy. At least the items that you use regularly. Use a TV tray and keep all the frequently-needed items (such as tissue, remote control, and keys) handy. Wear clothes that are comfortable and that you can easily take on and off without much movement.
Important note: We are again saying this -Try to relax and stay away from negative thoughts. Try practising relaxation techniques, such as meditation and deep breathing.
Manage Rheumatoid Arthritis with Ayurvedic Treatment: Explore our Ayurvedic Products
Rheumatoid Arthritis is an autoimmune condition. With Ayurvedic treatment, you can control the pain and lead a normal life. Pankajakasthuri offers 100% natural Ayurvedic medicines and products for managing Rheumatoid Arthritis and promoting overall wellness. These medicines Orthoherb Tablets and Orthoherb Oil contain the essence of Ayurveda. These are a result of thorough research and follow the Ayurvedic principles mentioned in the ancient texts. For more details on these products visit
http://www.pankajakasthuri.in/otc/orthoherb-oil
http://www.pankajakasthuri.in/otc/orthoherb
Along with Orthoherb tablets if the patient uses Antioxidants, the rate of recovery will improve definitely.