Balanced, Healthy Dinners When There's No Time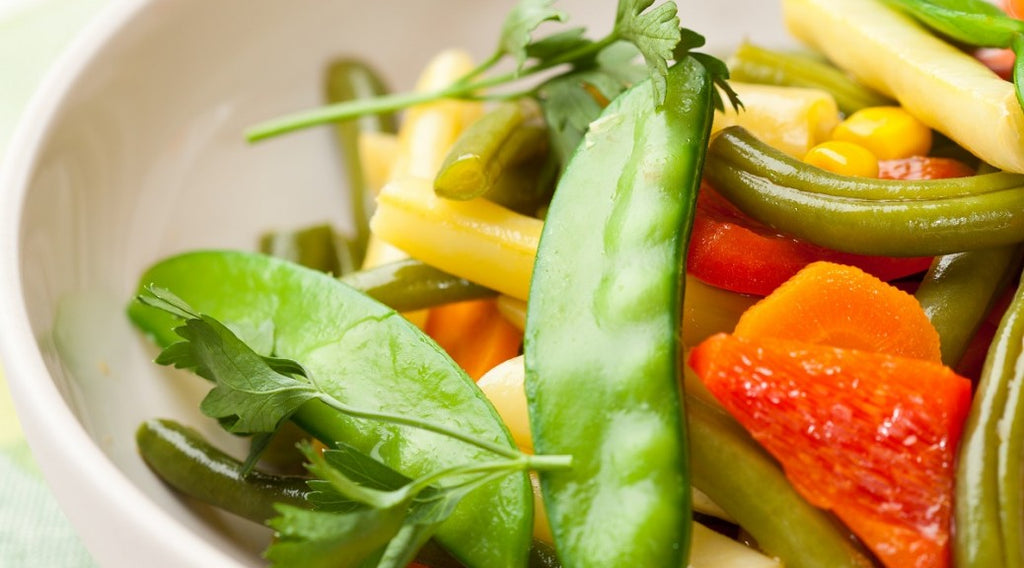 We often find ourselves hard-pressed for time these days after getting home. A hard day's work can make us feel tired, lethargic and in absolutely no mood to prepare dinner. Instead of falling into the trap of ordering take-out though, here are some quick, balanced and healthy dinner ideas to prepare when one wants to make dinner fast. In Ayurveda, dinner should be light on the stomach and nutritious. Fast food does not always have to be the unhealthy kind!
Chickpea salad: Take a can of chickpeas or white chana, a large tomato, cucumber and mango. You can also replace the mango with apple or avocado. In a large bowl, add the chana after soaking it or boiling it. Put in the chopped vegetables as well. Finally, use a whisk to put together ¼ teaspoon of salt, 1 tablespoon of honey, 1 teaspoon of vinegar, 1 teaspoon of olive oil and some herbs. Add it to the bowl and mix it well. A surprisingly filling alternative to laborious dinner recipes. You can roast (not fry) papads as an accompaniment to eat with it.
Stir-fried cauliflower: This is one of the most nutritious and healthy dinners that you can eat with whole wheat chapattis. Take 4 cups of chopped cauliflower, half of an onion sliced, and one yellow or green capsicum, sliced. Heat oil in a wok and add cumin seeds (jeera). Add the vegetables and one inch piece of peeled & finely chopped ginger. Stir fry for about 7 minutes. Add salt to taste, turmeric (haldi powder), garam masala and pepper. Add a little water and cover it after keeping it at medium heat. Cook until the cauliflower becomes tender. Garnish it with fresh coriander and serve.
Baked Tomato spaghetti: This is a fast yet healthy continental dish that you can make for a twist in your normal dinner routine. Take 2 cups of cherry tomatoes or chop regular tomatoes finely. Heat the oven to 400F. Line a baking tray with aluminium foil. Add the tomatoes and 4-5 cloves of garlic onto the tray. Sprinkle or brush on lots of olive oil on them. Roast it in the oven for 15-20 minutes and then add boiled sphaghetti in a bowl. Put the tomato-garlic mixture and add grated cheese and oregano before serving.
Khitchari: Khitchari is one of the simplest yet most wholesome and healthy dinners you can make. It is easy on the stomach and provides all the essential nutrients you need. It is one of the most traditional and simple Indian dishes that is excellent for digestion. It is made by combining moong dal and rice, spices and ghee, boiled to a soft consistency. You can add sweet potato, carrot, etc depending on the season for added taste.
Simple Ayurvedic dal: This Ayurvedic dosha balancing dal is made from toor dal. Wash 1 cup of toor dal and then add 2 cups of water, turmeric (haldi powder), and chopped green chillies. Cover the vessel and cook it on medium heat, for about 20 minutes till it softens. Add salt and grated ginger and cook for 2-3 more minutes. Remove it from the flame. Now in a separate pan take mustard seeds and some oil and heat them till they start sputtering. Add asafoetida (hing) then pour this into the Finally add chopped coriander and a teaspoon of ghee to garnish and serve with hot chapattis. One of the most healthy dinners you could have!
These easy-to-prepare, healthy dinners need only 20-25 minutes of your time and are much healthier than any fast food option. Definitely keep these quick fixes for dinner in mind the next time you get delayed at work.
You can incorporate Ayurveda into your modern lifestyle with Pankajakasthuri. Find out how here.