4 Healthy Diwali Sweet Recipies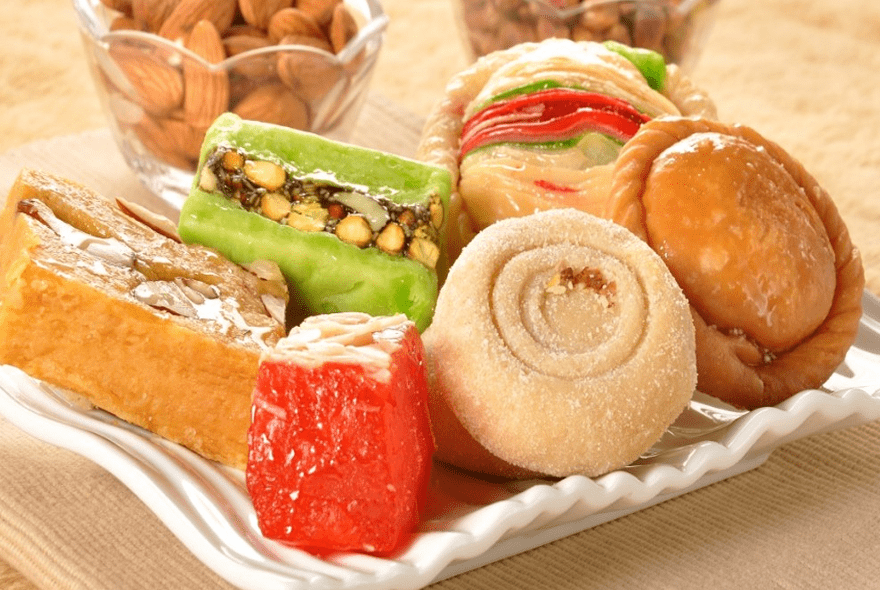 Diwali is near, and the festive season brings with it a lot of indulgence. The entire month turns into a wonderful occasion for meeting loved ones, fasting and later, feasting. During this time, it's important not to over-indulge to avoid putting on unnecessary weight and spiking up blood sugar levels. Eating too many nuts and dry fruits can also strain your stomach. Here are a few great ideas for healthy Diwali sweet recipes:
Oats Burfi:
This nutritious Diwali sweet makes for a healthy preparation too as it does not contain sugar or milk.
Ingredients:
1 cup sugar
40 ml water
¼ tsp green cardamom powder
1 tsp rose essence
1 tsp olive/almond/coconut oil
¾ cup powdered plain oats
Mix a cup of sugar with 40 ml of water and start boiling at a medium flame, while stirring constantly. Add ¼ teaspoon of green cardamom powder and a teaspoon of rose essence or any other essence you may like. Wait till the syrup becomes of a stringy consistency and then add ¾ cup of powdered plain oats to the mixture. Add a teaspoon of olive, almond or coconut oil and continue cooking on a medium flame while stirring constantly. After a while when the mixture becomes thick, dry and leaves the sides of the pan, turn off the stove. Check if it turns into a stiff ball when you take some into your hand and roll it. Finally put the mixture in a greased tray and cut into squares. Top the burfis with pumpkin seeds or dry fruits.
Fruit Sandesh: Sandesh is a popular Diwali sweet and you can turn it into a healthier version by using fruits instead of sugar.
Ingredients:
1 litre low fat cow milk
30 ml vinegar
1 banana or apple, peach or fig
50 ground almonds
2 tbsp honey
1 tbsp kewda water
Add vinegar to one litre of boiling low fat cow milk. Once the milk curdles, drain the whey with a muslin cloth and keep the paneer to cool. After it cools ensure that the paneer has no moisture left. Then gently rub it with the edge of your wrist to make it crumble. Take a ripe banana or even peach, fig or apple. Mash it with kewda water and honey. Add the paneer and mix it till it turns doughy and sticky. Now shape it into pieces. Wrap it in ground almonds and garnish finally with almond flakes.
Dates payasam: This is a no sugar, no guilt traditional South Indian Diwali sweet with a twist.
Ingredients:
15 dates
2 ½ cups boiled milk
¼ cup Coconut milk
1 tbsp chopped dates – 1 tbsp
1 tbsp chopped cashew and almond
A pinch of cardamom powder
1 tsp ghee
Soak the dates for 15 minutes in ½ a cup of warm milk. Chop the dates and nuts and heat ghee in a pan, adding them to it till they become crisp. Transfer the milk-soaked dates into a mixer, and grind it to a fine paste after adding a little milk. Boil 2 and a half cups of mil, letting it cook on medium flame and add the dates paste to it. Mix it well and cook for 5-7 minutes on low flame till the mixture thickens. Add ghee, the roasted dates and nuts mixture, cardamom powder and coconut milk. Switch it off. Keep chilled and then serve.
Wheat halwa: This is an easy twist on the Tirunelveli or Kerala halwa recipe by using wheat flour.
Ingredients:
½ cup wheat flour
1 cup sugar
1 and ¼ cups melted ghee
¼ tsp cardamom powder
1 tbsp broken cashews
1 cup warm water for soaking
1 pinch orange food colour (optional)
Add water gradually to the wheat flour to form stiff dough. Soak the dough for at least 5-7 hours in a cup of warm water and then mix it well to remove lumps. Strain the milk well, and fry the cashews in ghee and keep it aside. Now take a nonstick pan. Boil sugar with ¼ cup of water till it gets a stringy consistency. Add the wheat flour milk. Keep stirring till it gets a porridge-like consistency. Add ghee gradually and you will reach a consistency which will make it look like one mass. After it starts looking like halwa in the final stage add the remaining ghee, cashews and cardamom powder. Check if it forms firm balls and remove from the flame. Cool for a bit and serve.
These recipes will add a nutritious touch to your regular sugar-loaded Diwali sweet specials and taken in very limited quantity can be had by those who are monitoring their sugar levels. We hope you try these recipes for a happy, healthy and wonderful celebration with your family!